CREMATORY - verlegt auf 17.01.21!
Titel:

CREMATORY - verlegt auf 17.01.21!

Wann:

Do, 21. Mai 2020

Wo:

Nachtleben - Frankfurt am Main

Kategorie:
Beschreibung
Aufgrund der aktuellen Siutation muss das Konzert von Crematory (geplant 21.05.20 im Nachtleben) verschoben werden.
Neuer Termin 17.01.21
Tickets/Verlosungen behalten ihre Gültigkeit!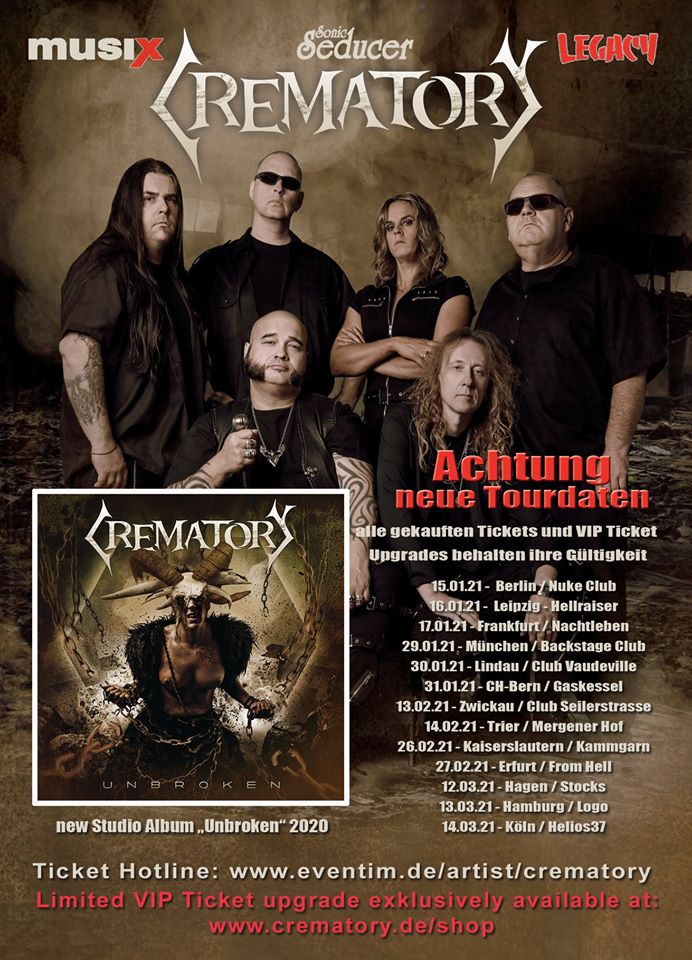 One of the pioneering acts of the fertile European goth metal scene in the 1990s, CREMATORY began as a strict death metal unit in 1991 before adding goth and industrial elements into their arsenal. In their 28 year long career, the band, centered around original members Markus Jüllich and Felix Stass, released 14 studio albums, three live albums, various compilations and splits, played hundreds of shows around the globe and they are still hungry for more. CREMATORY is one of the most influential bands of the last several decades and will be coming back on a massive tour in support of a new studio album to be released through Napalm Records in March 2020!
CREMATORY - TOUR DATES:
09.04.20 DE – Hamburg / Logo
10.04.20 DE – Berlin / Nuke Club
11.04.20 DE – Hagen / Stocks
12.04.20 DE – Cologne / Helios37
01.05.20 DE – Leipzig / Hellraiser
02.05.20 DE – Munich / Backstage Club
08.05.20 DE – Trier / Mergener Hof
09.05.20 DE – Kaiserslautern / Kammgarn
21.05.20 DE – Frankfurt a.M. / Nachtleben
22.05.20 DE – Erfurt / From Hell
23.05.20 DE – Zwickau / Club Seilerstrasse
30.05.20 DE – Lindau / Club Vaudeville
31.05.20 CH – Bern / Gaskessel

About CREMATORY:
One of the pioneering acts of the fertile European goth metal scene in the 1990s. CREMATORY began as a strict death metal unit in 1991 before adding goth and industrial elements to their arsenal. In their 29 year career, the band around Markus Jüllich, released 14 studio albums, three live albums, various compilations and splits, played hundreds of shows around the globe and they are still hungry for more.

CREMATORY are:
Felix Stass – Lead Vocals
Markus Jüllich – Drums
Katrin Jüllich – Keyboards
Rolf Munkes – Lead Guitar
Connie Andreszka – Guitars, Vocals
Jason Matthias – Bass
---
Veranstaltungsort
Standort:

Straße:

Kurt-Schumacher-Straße 45

Postleitzahl:

60313

Stadt:

Frankfurt am Main

Land:
Beschreibung