THE ALAN PARSONS PROJECT – The Turn Of A Friendly Card - 35th Anniversary Edition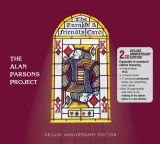 VÖ: 06.11.15
(Arista/Legacy/Sony Music)
Genre:
Art Rock
Homepage:
THE ALAN PARSONS PROJECT
1980 erschien eines der anspruchsvollsten und zugleich besten Alben der Art-Rock-Vorgänger ALAN PARSONS PROJECT. Fans, die bereits das Original besitzen dürften trotzdem staunen.
Auf dem superfett aufgemachten Luxus-Doppeldecker abgemischt im für THE ALAN PARSONS PROJEKT würdigen superklaren Digital-Sound befinden sich nicht weniger als 27 Stücke und Alternative Versionen, die es nicht auf's Album schafften, - allein 17 davon sind unveröffentlicht! Ein zwanzig Seitiges Textbooklet das reichlich Fakten zur Entstehung des zeitlosen Klassikers mitsamt Lyrics auch rares Fotomaterial enthält, darf ebensowenig fehlen.
Obendrein liegt der limitierten Version eine 7" Inch Vinyl-Single bei, sie enthält noch drei SINGLE EDITs zum 35jährigen Jubiläum eines zeitlosen Genreklassikers bei, von denen ALAN PARSONS PROJECT viele im Programm haben, doch kaum einen so eleganten wie diesen.  THE TURN OF A FRIENDLY CARD taucht nicht ohne Grund regelmäßig bei Kennern in der ewigen Bestenliste in den TOP 5 der genialen  Art-Rock-Pioniere auf. Dank zeitgemäßer Produktion im erfrischend klaren Digital-Soundverfahren abgemischt empfiehlt sich das fette Luxus-Gesamtpaket eines jederzeit phantastischen Meisterwerks all denen, die besonderen Wert auf immens gehobenes Niveau legen. Welche Bewertung verdient also ein solch atmosphärisch-kreatives, zugleich spannungsgeladenes Meisterepos? Die Frage erübrigt sich bei diesem Genremeilenstein quasi ganz von selbst: 10/10!
Titelliste:
DISC 1 – ORIGINAL-ALBUM
1. May Be A Price To Pay
2. Games People Play
3. Time
4. I Don't Wanna Go Home
5. The Gold Bug – Instrumental
The Turn Of A Friendly Card
6. The Turn Of A Friendly Card (Part One)
7. Snake Eyes
8.The Ace Of Swords
9. Nothing Left To Lose
10. The Turn Of A Friendly Card (Part Two)
BONUS TRACKS  
11. May Be A Price To Pay (Intro Demo)
12. Nothing Left To Lose (Basic Backing Track)
13. Nothing Left To Lose (Chris Rainbow Vocal Overdub Compilation)
14. Nothing Left To Lose (Early Studio Version with Eric's Guide Vocal)
15. Time (Early Studio Attempt)
16. Games People Play (Rough Mix)
17. The Gold Bug (Demo)
DISC 2 -  ERIC'S SONGWRITING DIARIES
1. May Be A Price to Pay
2. Games People Play
3. Time
4. I Don't Wanna Go Home
5. The Turn of a Friendly Card
6. Snake Eyes
7. Nothing Left to Lose
8. TOFC /Snake Eyes/ I Don't Wanna Go Home
EXTRA BONUS TRACKS
9. May Be A Price to Pay (Early Version - Eric Guide Vocal & Unused Guitar Solo)
10. Games People Play (Early version - Eric Guide Vocal)
11. Time (Orchestra & Chris Rainbow Backing Vocals)
12. The Gold Bug (Early Reference Version)
13. The Turn of a Friendly Card Part 1 (Early Backing Track)
14. Snake Eyes (Early Version - Eric Guide Vocal)
15. The Ace of Swords (Early Version with Synth"Orchestration")
16. The Ace Of Swords (Early Version with Piano on Melody)
17. The Turn of a Friendly Card Part Two (Eric Guide Vocal and Extended Guitar Solo)
18. Games People Play (Single Edit)
19. The Turn of a Friendly Card (Single Edit)
20. Snake Eyes (Single Edit)
SINGLE-EDITS:  
A side
1. Games People Play (Single-Edit)
2. The Turn of a Friendly Card (Single Edit)
3. Snake Eyes (Single Edit)