CARSTEN LIZARD SCHULZ SYNDICATE – The Day The Earth Stopped Turning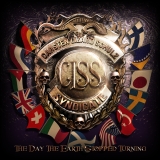 VÖ: 20.11.15
(Power Prog Records)
Genre:
Hard Rock
Homepage:
CARSTEN LIZARD SCHULZ
Hinter "The Day The Earth Stopped Turning" steckt ein über lange Jahre hinweg gehegter Traum und ein sorgfältig ausgearbeiteter Plan, sich selbst und auch vielen eigenen Fans ein Album zu präsentieren, welches man ohne Kompromisse erschaffen hat und so wie es sich hier präsentiert, einmal im Leben veröffentlichen wollte. Hierzu gehörte auch der Wunsch, dass so viele musikalische Wegbegleiter wie möglich auf diesem Projekt zu hören sein sollten. Der Begriff "namedropping" darf hier also getrost gestrichen werden. Wenn man neben den 32 Musikern zusätzlich auch noch gute Songschreiber am Start hat, dann wächst dieses Unterfangen auch schon mal an und man musste sich über die Veröffentlichung einer Doppel-CD Gedanken machen. Zu Buche stehen auf Carsten Schulz's (voc., EVIDENCE ONE, Ex-DOMAIN) Soloprojekt SYNDICATE nun 18 Songs, die allesamt im klassischen Hardrock mit deutlichem 70'er Jahre Touch angesiedelt und mit viel Orgel- und Keyboardklängen ausgestattet sind. So klingt z. B. "Head's Blowing A Fuse", das eine ebenfalls reinrassige EVEIDENCE ONE Nummer hätte werden können, eben durch den Hammond Sound schon etwas ungewohnt, aber gleichermaßen auch interessant. Schulz, der experimentelleren Sachen auch nicht abgeneigt ist platzierte so mit "Black Water Soul" ein Stück aus der Feder von Cede Dupont (git., SILENT CIRCUS / DOWNSPIRIT / ex-FREEDOM CALL / ex-SYMPHORCE), das ich so hier nicht erwartet hätte. "Soulburn" ist für mich auf der ersten CD auch so ein hervorstechendes Stück. Im Keyboardbereich ein bisschen mit Jon Lord und DEEP PURPLE behaftet, sticht der Background Chor hervor, der eben gemäß dem Titel, sehr soulbehaftet klingt. Nun, und wer das Solo zu Beginn von "Man In Flames" spielt, sollte jeder ARP Fan sofort erkennen – eben: Axel Rudi Pell himself. Das Stück an sich ist sehr getragen, fast schon balladesk ausgelegt.
Ebenfalls acht Songs befinden sich auf der zweiten CD. "Last Train To Babylon" fällt gegenüber den restlichen Songs aus dem Rahmen. Er ist sehr speziell und abwechslungsreich gestaltet. Er trägt deutlich die Handschrift von Alessandro Del Vecchio (key., HARDLINE, VOODOO CIRCLE) der für seine melodischen Kompositionen bekannt ist. Eine ganz feine Nummer. Das sich anschließende "Lucky Star" ist der Auftakt von einer Reihe rockiger Nummern. Das Gitarrensolo spielt hier Rolf Munkes (CREMATORY, EMPIRE, Ex-MAJESTY, Ex-TONY MARTIN BAND) und es lässt partylike in Richtung ZZ TOP blicken. Munkes zeichnet zudem für den gelungenen Mix und das Mastering verantwortlich. Überhaupt finde ich die 2. CD etwas rockiger und gradliniger ausgelegt, was z. B. "Chose Your Eyes And Count To Ten", "Brand New Fire" oder allen voran "Postcards From Hell", aus der Feder von Thomas Muster (SHAKRA), widerspiegeln und vom abschließenden MAGNUM Cover "The Teacher" noch unterstrichen wird.
Der reine Melodic Metaller, der die Stimme von Carsten Schulz bei EVIDENCE ONE oder DOMAIN mochte, bekommt hier seine Vollbedienung, muss sich aber damit abfinden, das der Metal hier ganz weit hinten ansteht und der Keyboard orientierte, nahezu unverfälschte Hard Rock im Vordergrund steht.
Punkte 8/10
Alle Songs in der Übersicht mit den beteiligten Akteuren:
CD 1:
01. "The Prize Is Shame" (Music: Steffen Seeger / Lyrics: CLS)
Guitar: Steffen Seeger
Guitar: Oliver Guettinger
Bass: Volker Krawczak
Drums: Markus Kullmann
Keys: Holger Seeger
02. "Head's Blowing A Fuse" (Music: Robby Boebel, Steffen Seeger / Lyrics: CLS)
Guitar: Steffen Seeger
Guitar: Oliver Guettinger
Bass: Hutch Bauer
Drums: Ramy Ali
Keys: Holger Seeger
Guitar Solo: Cede Dupont
Guitar Solo: Pete Ahonen
03. "Black Water Soul" (Music: Cede Dupont / Lyrics: CLS)
Guitar: Steffen Seeger
Guitar: Oliver Guettinger
Bass: Alex Jansen
Drums: Markus Kullmann
Keys: Holger Seeger
Guitar Solo: Matteo Filippini
Backing Vocals: Pete Newdeck
04. "Dogs" (Music: Steffen Seeger / Lyrics: CLS)
Guitar: Steffen Seeger
Guitar: Oliver Guettinger
Bass: Alex Jansen
Drums: Ramy Ali
Keys: Holger Seeger
Guitar Solo: Chris Lyne
Backing Vocals: Pete Newdeck
05. "Perfect To Me" (Music: Paul Logue / Lyrics: Paul Logue, CLS)
Guitar: Steffen Seeger
Guitar: Oliver Guettinger
Bass: Michael Mueller
Drums: Ramy Ali
Keys: Holger Seeger
Guitar Solo: Helge Engelke
06. "Into The Blue" (Music: Iain Ashley Hersey, Steffen Seeger / Lyrics: CLS)
Guitar: Steffen Seeger
Guitar: Oliver Guettinger
Bass: Neil Murray
Drums: Markus Kullmann
Keys: Holger Seeger
Guitar Solo: Guido Stoecker
Keys Solo: Erik Norlander
07. "Soulburn" (Music: Stefan Kahne, Steffen Seeger / Lyrics: CLS)
Guitar: Steffen Seeger
Guitar: Oliver Guettinger
Bass: Henning Saleschke
Drums: Ramy Ali
Keys: Holger Seeger
Guitar Solo: Stefan Kahne
08. "Man In Flames" (Music: Steffen Seeger, Roger Kayy, Henning Lachmann, CLS / Lyrics: CLS)
Guitar: Steffen Seeger
Guitar: Oliver Guettinger
Bass: Hutch Bauer
Drums: Markus Kullmann
Keys: Holger Seeger
Guitar Solo: Axel Rudi Pell
CD 2:
01. "Last Train To Babylon" (Music: Alessandro Del Vecchio / Lyrics: CLS)
Guitar: Steffen Seeger
Guitar: Oliver Guettinger
Bass: Hutch Bauer
Drums: Markus Kullmann
Keys: Alessandro Del Vecchio
Guitar Solo: Joerg Wartmann
02. "Lucky Star" (Music: Steffen & Holger Seeger / Lyrics: CLS)
Guitar: Steffen Seeger
Guitar: Oliver Guettinger
Bass: Ilker Ersin
Drums: Markus Kullmann
Keys: Holger Seeger
Guitar Solo: Rolf Munkes
03. "Song Like Rain" (Music: Emir Hot, Steffen Seeger / Lyrics: CLS)
Guitar: Steffen Seeger
Guitar: Oliver Guettinger
Bass: Hutch Bauer
Drums: Ramy Ali
Keys: Holger Seeger
Guitar Solo: Oliver Hartmann
04. "Close Your Eyes And Count To Ten" (Music: Jay Parmar / Lyrics: CLS)
Guitar: Steffen Seeger
Guitar: Oliver Guettinger
Bass: Hutch Bauer
Drums: Ramy Ali
Keys: Holger Seeger
Guitar Solo: Ferdy Doernberg
Backing Vocals: Pete Newdeck
05. "Brand New Fire" (Music: Jonas Hörnqvist / Lyrics: CLS)
Guitar: Steffen Seeger
Guitar: Oliver Guettinger
Bass: Mat Sinner
Drums: Ramy Ali
Keys: Holger Seeger
Guitar Solo: Kelly Simonz
06. "Nothing Left To Give" (Music: Paul Logue / Lyrics: CLS)
Guitar: Steffen Seeger
Guitar: Oliver Guettinger
Bass: Paul Logue
Drums: Markus Kullmann
Keys: Holger Seeger
Guitar Solo: Tommy Vitaly
07. "Postcards From Hell" (Music: Thomas Muster / Lyrics: CLS)
Guitar: Steffen Seeger
Guitar: Oliver Guettinger
Bass: Hutch Bauer
Drums: Markus Kullmann
Keys: Holger Seeger
08. "The Teacher" (Music & Lyrics: Tony Clarkin - MAGNUM Cover!)
Guitar: Steffen Seeger
Guitar: Oliver Guettinger
Bass: Volker Krawczak
Drums: Markus Kullmann
Keys: Holger Seeger
Guitar Solo: Thorsten Koehne